Airport Chauffeur In London
Thousands of people make their way to the airport each and every day, whether it's to fly to an exotic location for a much-needed break from the hustle and bustle of daily life, it's to visit friends or family or for business purposes. Many have to manage their way through the streams of traffic to collect someone arriving. Whatever the reason, there is an easier way which offers a host of benefits, airport chauffeur in London.
Why you should hire airport chauffeur services?
No need to worry about your flight schedule
Parking services
Choose your place
Safety
Many are under the impression that hiring a vehicle with a driver can be an expensive exercise, but will be pleasantly surprised when weighing up the cost of a car and driver against parking their own vehicle at the airport while they are away. The driver and vehicle come out tops every time. Hire A London Chauffeur is a family run business, founded in London back in 2008, we have a chauffeuring experience of over 11 years within the industry.
In addition to the convenience that this service provides, you also enjoy a stress-free experience. Anyone travelling to an airport knows how frustrating it can be, you end up in queues of traffic as you get closer to the airport, this can cause unwelcomed delays, even cause you to miss your flight. By the time you arrive and have found parking, you are so stressed that the start to your vacation or business trip begins on a negative footing.
The first benefit of choosing a luxury chauffeur driven cars in London service, is the convenience that it provides. You get to enjoy the ease of being collected at your door and driven directly to the airport without having to share your space with strangers on the same route, which is something you often experience when using other airport transfer services.
Get work done at the best price
Using a chauffeur service gets you to the airport completely relaxed, enabling you to check in with time to spare, feeling good about the experience and enjoying the flight. Of course, their services usually provide high-value cars that ooze luxury. There is nothing better than traveling in style, which is a huge advantage whether traveling for business or pleasure.
Surprisingly, as mentioned before choosing a chauffeur airport transfer is good value for money, and in most cases, the chauffeur companies keep up to date with flight information to ensure you arrive in time and have ample time to check in and catch your flight.
Hire airport chauffeur in London for pickups and drop-offs
A chauffeur airport transfer is also very reliable. We are working for you and will send a chauffeured car and driver to collect you and your party. You aren't relying on a small bus that has to collect a number of people along the way, making a number of stops and causing unwelcomed delays. You get to arrive at the airport with time to spare, enabling you to feel relaxed and stress-free about your experience getting to the airport.
There are some considerations you need to make when choosing an executive chauffeur services in London and the first is to ensure you receive a reliable service from a reputable company that will provide you with a licensed vehicle and a professional and experienced chauffeur who knows London well.
Journeys are tiring no matter how short they are. And, the last thing you want to do after a long haul flight is to compete with fellow passengers for a cab that will take you to your next destination. In order to do away with these hassles and to make sure you are not stranded at the airport, you can book an airport chauffeur in London service in advance.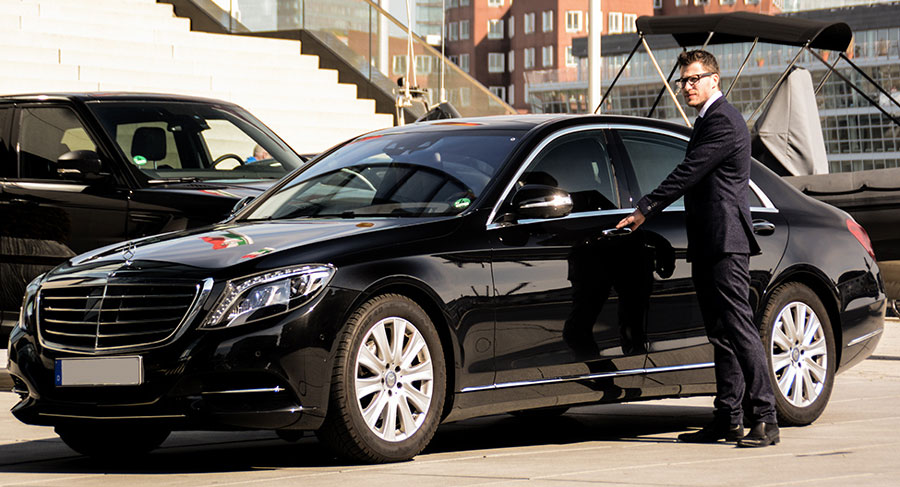 Why choose us for airport transfers?
We cover all airports in London
We are a team of professional and highly experienced airport chauffeur drivers
We make sure that you leave and arrive on time
We own a range of luxury airport transfer vehicles to choose from
We are famous for the service we provide
We have Mercedes V Class airport shuttles as well. These are shared passenger vehicles. They are more luxurious than a taxi or a private car hire. The car will drop you off to your exact location.
The best place to start your search is online, here you can compare the different chauffeur service near me to determine the best one to meet your requirements. You can also go through their fleet of vehicles and find the one that you want to travel in that also fits your budget.
The company you choose should give you the ability to book your service online with ease, saving you time and energy. It is always advisable to phone the company a few days before you are due to travel to ensure your booking is still standing and that there will be no unwelcomed or unexpected delays. Please contact us to get started. +448009247424