Wedding Car Hire
Your wedding day is one of the most important and most memorable days of yours, your family's and friends' lives, and there is no better way to put the cherry on the cake than by hiring a Chauffeur Driven Wedding Car. We have the best wedding car hire options available for you.
Our wedding cars for hire are purposely chosen specifically for their luxury, elegance, and charm and in fact our whole hire wedding chauffeur car hire in London fleet has been selected by brides to be themselves (Find out more), to cater for both brides and grooms and of course the brides' and grooms' parents, well it is as much their day as it is yours (they paid for it!). Inevitably if you are to book more than one of our wedding cars for your big day then we will, of course, return the gesture by incorporating a discount for every extra wedding car you wish to hire.
Bring your best prices with London wedding chauffeur for hire
The wedding chauffeur hire services we have on offer range from the standard drive to and from the church to being available for the whole ceremony and or weekend, subject to your requirements and our availability.
We know how important it is to be on time for an event especially one that is to be remembered for a lifetime, so let us take that worry away from you while you sit back, relax and look forward to the day's events, as you deserve it. If you happen to need something at the last minute such as flowers or a bottle of champagne to celebrate upon your departure from the church or venue then do let us know and wedding chauffeur can have this arranged for you.
The ultimate Wedding Day Checklist from the ultimate Wedding Car Hire Company!
In order to create the most perfect of wedding days, you must plan ahead for the most perfect of celebrations!
As we are fully aware planning a wedding day can be a mean feast and as getting married isn't something we generally do that often (thank god!), many things can get missed or simply forgotten about due to the vast amounts of organizing we have to do. Subsequently, due to this and the high number of enquiries we receive for planning advice for a wedding day checklist from brides-to-be or their parent, when contacting us to arrange a wedding car hire service, we thought it best to collate and display our wedding day checklist below, to make it easier for you to find and share.
If however, you would like a copy of this emailed to you then please call our London wedding chauffeur for hire hotline and make a request.
Now, your planning should be approached no less than 6 months in advance of the big day and really I would recommend a lot earlier, to ensure that you not only have everything you want and need, but you do not miss out on booking your desired venues and of course so that your friends and or family overseas can make their desired travel arrangements. Actually by planning with ample time ahead does give you the opportunity to shop around a bit in order to get yourself the best deals, like hiring a wedding car from Hire a London Chauffeur , for example!
So, let's get started. At minimum 6 months, but preferably 1 year before your special day we recommend that you do the following:
Copy and paste the below list and print a couple of copies for you and your family/friends.
Buy yourself a notebook – use the notebook to inevitably take notes of any ideas you may have, also draw upon the last few pages of your notebook a monthly calendar, if you buy an A4 lined pad, get a ruler and draw a line down the middle, a standard A4 sheet of paper has 32 lines dividing it so it will be easier to use in order to create a simple calendar.
Purchase an address book – put all of the venues, suppliers, caterer's details in there ready for your use and or elimination!
Get yourself a folder, either binding or segmented, use this to cram in all of the newspaper/magazine snippets, business cards and or brochures… you have seen that you would like to potentially book, hire, etc.
Start if you haven't done so already (which nearly every bride-to-be has done prior to the above), go through bridal magazines, websites, fashion outlets, venues and start filling in your file with your findings, preferences.
When going through the above do ensure to do your calculations, set yourself a maximum budget and most importantly make sure you have enough money left over to book one of our wedding chauffer car hire services!
The Guest-list
Make note off all the guests you would like to invite, this will be vital in making your booking and reservation decisions due to costs and or space available, not every venue will necessarily be able to cater for all of your guests… and of course it is possible a number of the people you will be inviting won't be able to make it and others you may only be invited to the evening party/meal, so be sure to take this into consideration.
The Venues
Make sure once you have decided upon your wedding venue(s) that you reserve your dates as soon as possible to avoid missing out! Also by being so prepared it will help you visualize and organize the rest of your planning.
Registrar
Now that you have booked the venue your getting married in, arrange the registrar unless of course, you are marrying in a church, mosque, synagogue…
Research & Book
Bands – Don't rely solely on their videos, sound recordings as these can easily be digitally enhanced, it is always best to go and see them play live or at band practice, before making a possibly terrible mistake.
Photographers/Cameraman – Ask them for examples of their work, both related and non-related so that you can see if they have an eye to detail, lighting, and editing that you desire.
Florists – Usually it is best to try and source someone you know and trust, but again when finding someone new asks for examples of their work.
Wedding Car Hire – Obviously our specialty, so, therefore, you have no need to look any further, however, do check to see if your parents and or groom and his parents want to book a luxury car chauffer for the day as well!
Caterers – This is the fun bit and if you would like a hand with this one I am here to help! Simply call up the caterers you are considering to hire for a testing day, yum! My number is at the top and bottom of the page by the way!! Book your chauffeur services now to arrive in style at your wedding venue.
Other – If you are considering hiring any other type of service, such as dancers, the magician. Do ensure to do your research, there may be online reviews, videos, discussions on forums and so on, and if you are ever unsure, don't go with it!
Now that you have pretty much sorted out the above, you should now start looking for the following:
The Bride & Bridesmaids dresses – Okay hopefully you haven't lost too much weight stressing about the day. as you certainly want to fit into your dress! Unfortunately it is not for me to advise you on your dress for the big day other than dressing you in one of our wedding cars, but what I can suggest is that you make sure your bridesmaid dresses to match, but certainly, don't upstage yours!
Hairdresser and Make-up Artist – If you do not have either one or the other, don't settle for anything less and treat yourself to one of the best/most renowned nearest to you. But do check their work out first as you might not like a punk style haircut!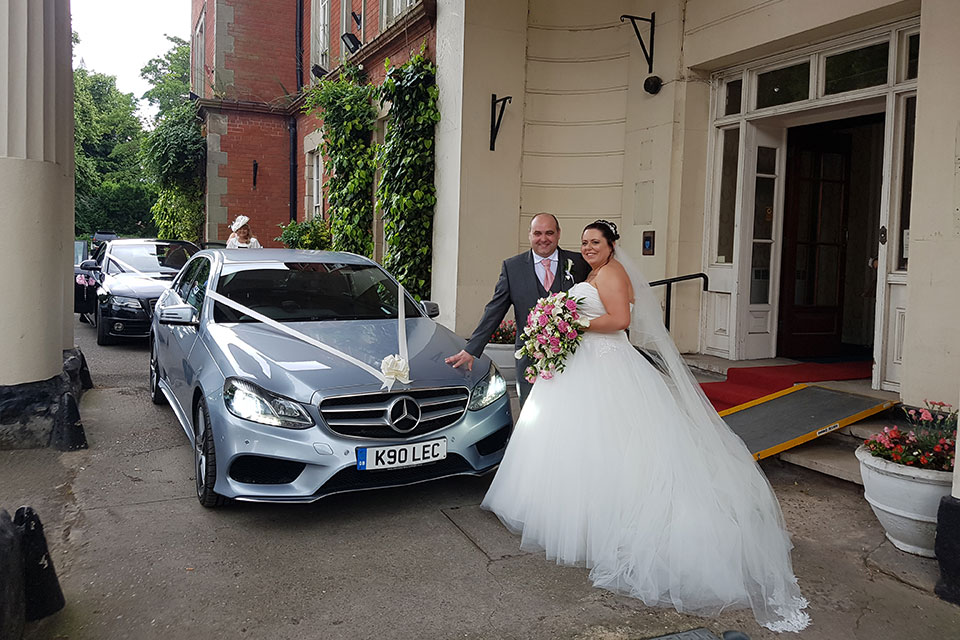 Reserve B&B's/Hotels for your guests – I wouldn't imagine you will be paying for your guests to stay over in a swanky hotel, however, you may be able to help them reduce costs by booking a number of rooms at the same hotel nearby. Most hotels will be willing to give a suitable discount!
Wedding Cards/Invitations – More and more people nowadays are turning to the internet for their wedding invitations, meaning that they either send a bespoke email invitation or a link via email, text, social network site… with a link to their invitation website. If you are more of a traditionalist you may want to stick with good old fashion wedding invitations, if so, do still consider how much it might cost you to send your invitations overseas and the possibility of them being lost in the post. You may be better off sending your overseas invites by the other means suggested avoiding any upset.
Plan your Honeymoon! – As it would suggest on the tin. We also offer executive chauffeur services in London.
Once you have accomplished all of the above, go back through and check everything again, put together a tight time-frame schedule of events for yourself, bridal party, caterers and venue organizers, exactly as they should happen on the day and carry out a few tests runs. Send out invites, check seating arrangements, caterers and suppliers, finalize your menu, music selection, and flowers, and then you can start thinking about purchasing the wedding rings and booking your engagement party!
We hope our ultimate wedding car hire, the ultimate wedding day checklist helps you create the most perfect of weddings! Please contact us to get started. +448009247424